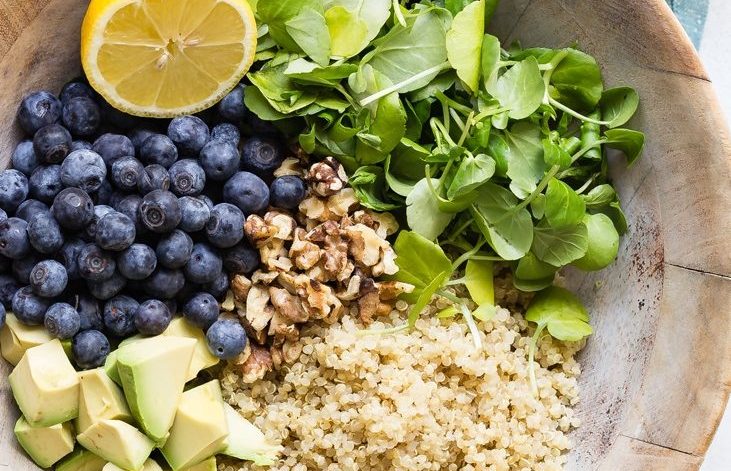 Recipe created by Foodness Gracious / Image by littlebluedynamos.com
This blueberry quinoa power bowl is just that – power in a bowl. Packed with the goodness of frozen blueberries, walnuts, watercress and quinoa, the lemon vinaigrette adds a zesty kick to this bowl that's perfect for spicing up work lunches. And with only 30 mins of prep, this blueberry quinoa power bowl is the best anytime salad that will kick those mid-afternoon snack cravings to the curb.
Ingredients
1 cup uncooked quinoa
1 cup frozen blueberries, thawed
1 avocado, pitted and diced, about 1 cup
1 bunch watercress, leaves only, about 2 cups leaves
½ cup toasted chopped walnuts
¼ cup olive oil
2 Tbs. lemon juice
3/4 tsp. kosher salt
¼ tsp. freshly ground black pepper
1 tsp. lemon zest
Directions
Bowl Instructions
Prepare quinoa according to package directions; cool.
Combine cooled quinoa, blueberries, avocado, watercress and walnuts.
Lemon Vinaigrette Instructions
Whisk olive oil, lemon juice, kosher salt and pepper until blended.
Stir in lemon zest.
Toss with quinoa salad until evenly coated.
Preparation time: 10 Minutes
Cooking time: 20 Minutes
Yield: 6 Cups