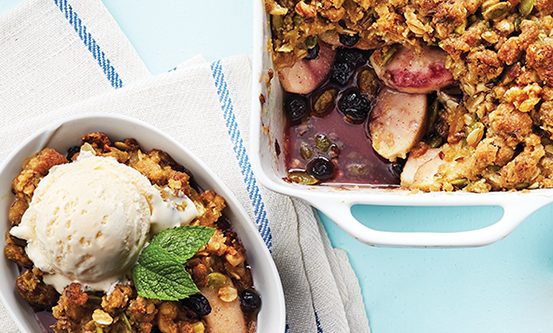 Recipe/Image by Chatelaine
Add heart-healthy walnuts, fibre-rich flax and crunchy pepitas to the traditional oats and sugar topping.
Ingredients
1/2 cup all-purpose flour
1/3 cup chopped walnuts
1/4 cup brown sugar
1/4 cup large-flake oats
1/4 cup pepitas
2 tbsp flax seeds
1/4 tsp salt
1/2 cup cold unsalted butter, cubed
6 gala apples, peeled and sliced (about 10 cups)
1 cup dried blueberries
1/4 cup honey
2 tbsp all-purpose flour
2 tsp cinnamon
1/4 tsp nutmeg
1/8 tsp salt
Vanilla frozen yogurt, optional
Directions
Preheat oven to 375F.
Stir 1/2 cup flour with walnuts, brown sugar, oats, pepitas, flax seeds and 1/4 tsp salt in a medium bowl. Add butter and work in, using your fingertips, until crumbly. Set aside.
Toss apples with blueberries, honey, 2 tbsp flour, cinnamon, nutmeg and 1/8 tsp salt in a large bowl until evenly coated. Transfer mixture into an 8×8-in. baking dish. Top evenly with crumble mixture.
Bake in centre of oven until top is golden and apples are tender, 45 to 50 min. Cool on a rack for 10 min. Serve warm with vanilla frozen yogurt.
Nutrition
Calories

 

318

Protein

 

4 g

Carbohydrates

 

46 g

Fat

 

15 g

Fibre

 

4 g

Sodium

 

91 mg