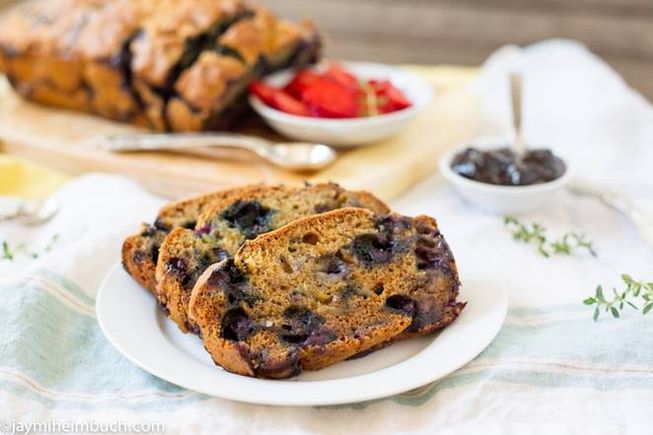 Recipe/Image by Jaymi Heimbuch of Mother Nature Network
Okay, so the word "healthy" for this recipe is a tiny bit of a stretch. But this is indeed the healthiest recipe I've ever tried for a banana bread, and it still tastes as decadent as something with sugar and dairy in it. But this has zero refined sugar, zero dairy, and zero oils — and, if you wanted, this could be made with gluten-free flour as well. So it's just about as guilt-free as you can possibly get for a sweet bread.
It is also about as easy as you can possibly get too. This is one of my two all-time, favorite vegan dessert recipes (the other one being vegan chocolate cupcakes with strawberry filling) because it's so simple to put together and so very, very delicious.
This recipe is adapted from FatFree Vegan Kitchen
Ingredients
3 large over-ripe bananas
2 tablespoons lemon juice
1/3 cup of your choice of soymilk, almond milk, or apple sauce -- whichever flavor you prefer
1/2 cup agave nectar
2 cups whole wheat flour or (I went the gluten-free route for my recipe and used 1 1/2 cups Multi-Blend Flour from Authentic Foods, a cup-for-cup style gluten-free flour blend. Works perfectly.)
3/4 teaspoon baking powder
3/4 teaspoon baking soda
1/2 teaspoon salt
1.5 cups blueberries
Directions
Note: This part of the recipe is flexible. I love my bread packed with blueberries, as you can see. I add so many I narrowly miss the bread falling apart when it comes out of the pan. But this also means a very blue or blue-green bread. If you like your berries in moderation, use 1 cup of berries.
Also, you can add in 1/2 to 1 cup of your favorite nuts. Walnuts go beautifully in this, but you could also try hazelnuts or even pistachios! Just make sure that whatever you choose, they are unsalted, raw, and coarsely chopped.
Preheat oven to 350 degrees Fahrenheit. Coat a 9×5 inch loaf pan with a light layer of cooking oil.
If using soy or almond milk, add 1 tablespoon of lemon juice to it and let it stand until it curdles. About 1 minute. Skip this step if using apple sauce.
In a large bowl, mash up the bananas until smooth (but don't be afraid to leave some chunks — these make a sweet surprise in a slice of bread). Add lemon juice, the curdled milk substitute or apple sauce, and agave nectar. Stir to combine.
In another bowl, add flour, baking powder, baking soda and salt, and stir to combine.
Add the dry ingredients to the wet ingredients, and stir until combined and everything is moistened.
Toss in your blueberries and gently stir until evenly mixed.
Bake for 50 minutes, or until a toothpick inserted in the center comes out clean. Cool completely in the pan before transferring to a plate.
Enjoy!