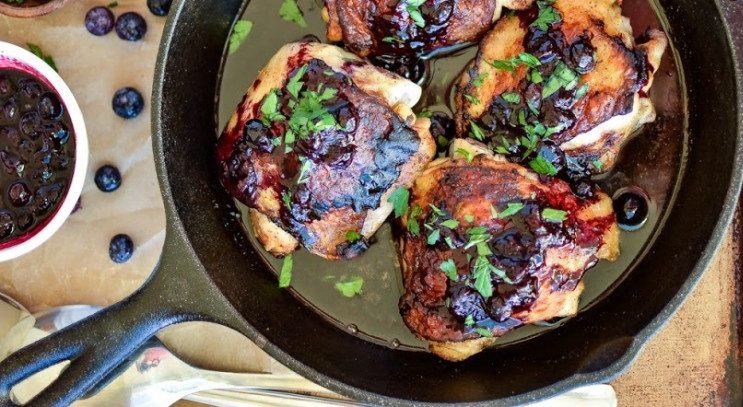 Recipe by Justine Sulia, "Cooking and Beer" Blog
These mouthwatering crispy chicken thighs with blueberry sauce are full of flavor. The combination of blueberries, apple cider vinegar and honey make for a sweet sauce that beautifully complements the chicken's savory flavors and crisp texture. Crispy chicken thighs with blueberry sauce are perfect for a family meal or potluck dinner contribution.
Ingredients
1 cup frozen blueberries, thawed
1 tablespoon apple cider vinegar
2 tablespoons honey
3 tablespoons water (more as needed)
1/4 teaspoon kosher salt
6 chicken thighs (skin ­on, bone ­in)
2 cups buttermilk
1 teaspoon salt
1/2 teaspoon black pepper
Pinch of cayenne pepper
2 tablespoons canola oil
1 tablespoon fresh parsley, chopped
Directions
Blueberry Sauce Instructions
In a small saucepan over medium-high heat, combine blueberries, vinegar, honey, water and salt; bring to a light simmer, then lower heat to medium low.
Cook sauce for about 30 minutes or until it becomes thick, stirring occasionally.
Add more water if you find the sauce to be too thick.
Set aside, keeping warm until you are ready to serve.
Crispy Chicken Thighs Instructions
In a large bowl, combine buttermilk and chicken thighs. Cover and refrigerate for at least 4 hours or up to 12 hours.
Once the chicken has marinated, drain it through a colander and season with salt, black pepper, and cayenne pepper.
Preheat oven to 400°F.
In a large oven safe skillet over medium high heat, heat oil.
Add chicken, skin side down and sear for about 6­-8 minutes or until the skin is crispy and brown. Flip chicken to the other side and cook for an additional 3 minutes.
Transfer pan to the oven.  Cook for 25 minutes or until the chicken is cooked through; let rest for five minutes.
When you are ready to serve, spoon blueberry sauce over the chicken and garnish with fresh parsley.
Yield: 3