Paul Gill of M&M Pacific Coast Farms is a second-generation blueberry farmer whose family has been growing blueberries since 1979. While they started out farming with a mix of berries, chicken and corn, they've been growing just blueberries for the last 25 years. As growers, Paul says it comes down to having a passion for what they do and knowing that their hard work is recognized and respected.
"It's about pride for us," says Paul. "We take a lot of pride in having a great farming operation – in the process, making sure we're doing things properly and – more importantly – in making sure we're producing high-quality fruit." He's also proud of the farm's history, knowing the struggles and challenges the family has worked through over the years to achieve success.
Paul's family has a long history with Silver Valley Farms, too. As members of the farming community, their connections stretch back decades, with the move to becoming growers for Silver Valley Farms starting around ten years ago. After getting to know owner Ray Biln through industry activities, it was clear that they had a lot in common, especially when it came to farming and growing philosophies. "There was a lot of mutual respect for what each of us was doing."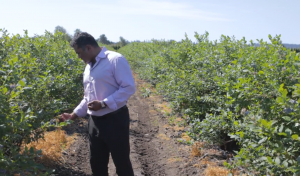 As growers, Paul says the primary reason M&M partners with Silver Valley farms is because they feel very connected as part of the overall operation. "Everybody's working together," says Paul. "We have similar operations and a lot of shared values and philosophies, particularly on wanting to grow a really first-grade product."
Hard work, honesty and taking pride in what each side contributes are just three of those shared values and philosophies. They're important for Paul because they help build and maintain an excellent working relationship with Silver Valley Farms. "We really feel like we're part of their team. There's communication, trust, a sense of connection and a feeling of genuine care about us and what we do. They really want us to be a successful operation in our own right – not just for the sake of producing fruit."
That care and connection extends into solid support for Paul and his team. In farming, he needs to stay on top of market conditions and be prepared for external events that may affect his business. "There's a lot of uncertainty, a lot of variables in agriculture," he says. "Getting information from people we trust is important to us. Silver Valley Farms has a great support network for growers. Doesn't matter what the issue is, they've got someone that can provide assistance or advice."
"Knowing that we can reach out to them on virtually anything means a lot to me personally. They're always accessible through phone, email or text and their response is always very prompt. And in this industry, in farming, a quick response is definitely appreciated because everything's so condensed."
One of the biggest advantages to working with Silver Valley Farms is that it lets Paul and his family focus on their farming operation. "We don't have to worry about a lot of the other issues because we know they're handling them, like providing assistance with input or food safety programs. We take a lot of comfort in that – knowing they're there for us."
"I'd say probably the biggest benefit to working with Silver Valley Farms is knowing that we have a home. It's not a seasonal thing, it's long-term." It's resonated with Paul, who remembers his father saying that it's not about just growing and selling the fruit or getting the best price for it, but it's about finding a home for their fruit for generations to come.
"That's where we really fit in with Silver Valley Farms. With them, we feel like we've found a home for all our fruit, not just during harvest, but the whole year through and into the future."